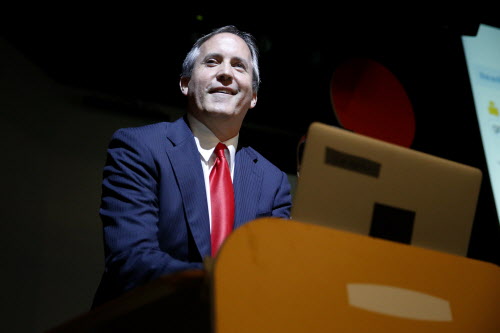 AUSTIN – Daily fantasy sports betting in Texas is illegal, according to an opinion released by Texas Attorney General Ken Paxton on Tuesday.
Paxton's opinion argues that fantasy sport operations are wrong for claiming that they're skill based. In his nonbinding opinion, Paxton said it is "beyond reasonable dispute that daily fantasy leagues involve an element of chance regarding how a selected player will perform on game day."
He noted in his opinion that Texas' law defines gambling as a game with 'partial chance' – a stricter definition than how some other states define the practice.
"Paid daily 'fantasy sports' operators claim they can legally operate as an unregulated house, but none of their arguments square with existing Texas law," Paxton said in a statement. "Simply put, it is prohibited gambling in Texas if you bet on the performance of a participant in a sporting event and the house takes a cut."
Daily fantasy sports websites allow players to buy into a game. Players create a team using real pro stars, whose statistics in actual games are then tallied. The fantasy players win or lose money based on how their team performs.
The industry has taken off in recent years, growing from 32 million players in 2010 to more than 56 million in 2015, according to the Fantasy Sports Trade Association.
In a statement, a spokesman for fantasy sports site DraftKings said they disagreed with Paxton's opinion.
"The Texas Legislature has expressly authorized games of skill, and daily fantasy sports are a game of skill," said Randy Mastro, legal counsel to DraftKings. "The Attorney General's prediction is predicated on a fundamental misunderstanding of [daily fantasy sports]. We intend to continue to operate openly and transparently in Texas, so that the millions of Texans who are fantasy sports fans can continue to enjoy the contests they love."
https://gwtgl.com/wp-content/uploads/2016/08/NMC_6PAXTON6AJ_43737139.jpg
333
500
gwtgl
http://gwtgl.com/wp-content/uploads/2015/03/GamblingLogo2C.jpg
gwtgl
2016-01-19 22:16:00
2016-08-08 22:19:20
Paxton: Daily fantasy sports betting like DraftKings is illegal gambling