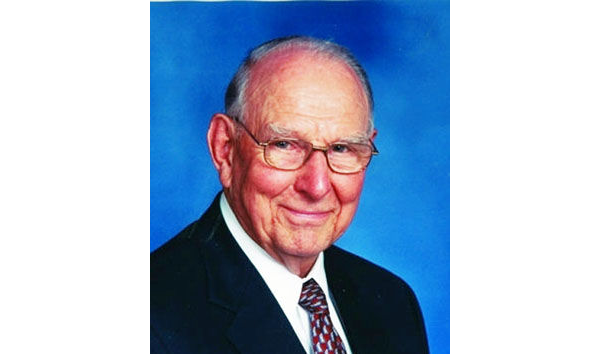 Posted: Sunday, March 29, 2015
Japp, Lyle William
Japp, Lyle William Oct 29, 1925 – Mar 23, 2015 Lyle William Japp, age 89, passed into Glory on March 23, 2015, following a courageous battle with pulmonary fibrosis. He was born October 29, 1925 in Blair, Nebraska, to Walter and Marie (Wrich) Japp and grew up on the family farm. Following service in the army from 1945-46, he attended the University of Nebraska, graduating with a degree in business. He began a career with New York Life Insurance Company that lasted more than 60 years.
During his lifetime and continuing up until his death, Lyle was actively involved in a large number of religious and civic organizations, often as a cofounder or member of the board of directors. He served with the Good News Jail Ministry for 40 years, the Gideon's for 40 years, Gambling With the Good Life for 20 years, Kiwanis for 35 years, the Open Door Mission, Overcomers in Christ, the Teammates mentoring program, and many others. In recognition of his lifetime contributions Lyle was awarded the Spirit Warrior Award by the Christian Business Men's Committee.
Lyle will be remembered by his family and friends for his warm smile, ready conversation, eager hospitality, endless generosity, and an ever-ready desire to share the Good News of his Savior Jesus Christ whom he had received almost 60 years before. He was always willing to help, whether it was coaching the little league team, making a pot of chili, or providing housing for someone in need. Of course he was a faithful follower of nearly all Husker sports. Lyle was a unique and gifted man. He will be greatly missed.
He was preceded in death by his wife of nearly 58 years, Phyllis M. Japp, PhD; parents, and his sister Mary Lou (Andersen). He is survived by his children Debra Japp, PhD and John Michael Japp (Janet); grandchildren Brendan (Jennifer) and Rachel Gilkey (Joseph); great-grandchildren, Griffin, Edie, and Maddox. He is also survived by two siblings: Walter, Jr (JoAnn) and Mildred (Krampe) along with numerous nieces and nephews.
Lyle's LIFE WILL BE CELEBRATED on Thursday, April 2, at 11am at Brookside Church, 11607 M Circle, Omaha, NE. A luncheon will follow.
In lieu of flowers, those who wish to honor Lyle's memory are encouraged to donate to one of the organizations he supported during his life, e.g. the Good News Jail and Prison Ministry, Gambling With the Good Life, Volunteers for Christ Campus Ministry, The Phyllis and Lyle Japp Scholars Fund at UNL, and others. For additional details on the organizations and how to give, send an email to HonorLyle@gmail.com.
https://gwtgl.com/wp-content/uploads/2015/03/lylejfeaturedimage.png
354
600
gwtgl
http://gwtgl.com/wp-content/uploads/2015/03/GamblingLogo2C.jpg
gwtgl
2015-03-29 21:24:27
2015-09-26 20:18:56
Lyle Japp's Obituary