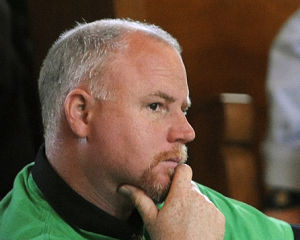 Article from the Lincoln Journal Star
Lincoln Race Course's former manager has filed a lawsuit claiming he was wrongfully fired in retaliation for reporting his boss for alleged illegal use of the pari-mutuel betting system.
Judd Bietz, and his wife, Shanna Bietz, were fired and escorted from the Lincoln Race Course by security in April 2013, three months after state racing officials learned he had reported Greg Hosch of Omaha to Lincoln police, according to a lawsuit filed Tuesday in Lancaster County District Court.
The Nebraska Horsemen's Benevolent & Protective Association, owner of the Lincoln Race Course, said through its attorney, Lynne Schuller, that the group is "denying all allegations and we expect to be vindicated."
Hosch has not been charged with a crime. He is general manager of Horsemen's Park in Omaha and oversees the Lincoln Race Course as vice president of Omaha Exposition & Racing Inc. Hosch lost a bid for the state Legislature's District 12 seat in November.
Bietz, who was hired as director of the Lincoln Race Course in July 2009, says in his suit that an employee told him in late 2012 that Hosch had directed cashiers at the simulcast facility and Thoroughbred racetrack to create vouchers and pay out cash — generally $100 to $300 — to certain people even though they had not placed bets.
Bietz feared Hosch's use of the system violated state and federal laws and reported it to police.
"Horse racing, like professional boxing and wrestling, has many disbelievers in the honesty and integrity of the sport," his lawsuit says. "The false ticket for cash scheme would not help the sport's reputation."
At the same time, the Lincoln Race Course was in the process of moving from the former State Fair Park to its new home at U.S. 77 and West Denton Road.
Omaha Exposition & Racing President Kevin Hulse told Bietz in December 2012 that the group planned to hire him to manage the new Lincoln Race Course, according to the lawsuit.
A month later, Bietz told Horsemen's Association President Todd Veerhusen about a police investigation into a cash payout scheme.
Hosch also found out about the investigation, allegedly after the company that provides the betting software called him about being contacted by police.
Once word had spread, the suit says, Hulse told Bietz to "lay off" and to stop cooperating with police.
Bietz was fired soon after.
His lawsuit names both the Nebraska and national horsemen's associations, as well as Omaha Exposition & Racing, which manages both Horsemen's Park and the Lincoln track.
It asks for payment of lost wages — he made $59,5000 annually, plus bonuses and benefits — plus two years future pay, and unspecified amounts for costs, attorneys fees, pain, suffering and mental anguish.
Bietz said he has applied at other horse racing venues but failed to get the jobs, and he believes the reason is that he has been blacklisted by Omaha Exhibition & Racing, the Nebraska Horsemen's Benevolent & Protective Association and Hosch, according to the lawsuit.
Bietz has since gotten a part-time job making a fraction of his former salary. He and his wife have had to cash in their retirement savings to pay for living expenses, the lawsuit says.
Hosch and Hulse could not be reached for comment Wednesday. Veerhusen declined to comment, and the national association did not return a message… READ MORE
https://gwtgl.com/wp-content/uploads/2015/08/54f7939f90f1e.preview-300.jpg
240
300
gwtgl
http://gwtgl.com/wp-content/uploads/2015/03/GamblingLogo2C.jpg
gwtgl
2015-03-04 11:59:28
2017-01-12 08:28:12
Former Lincoln Race Course manager claims wrongful firing