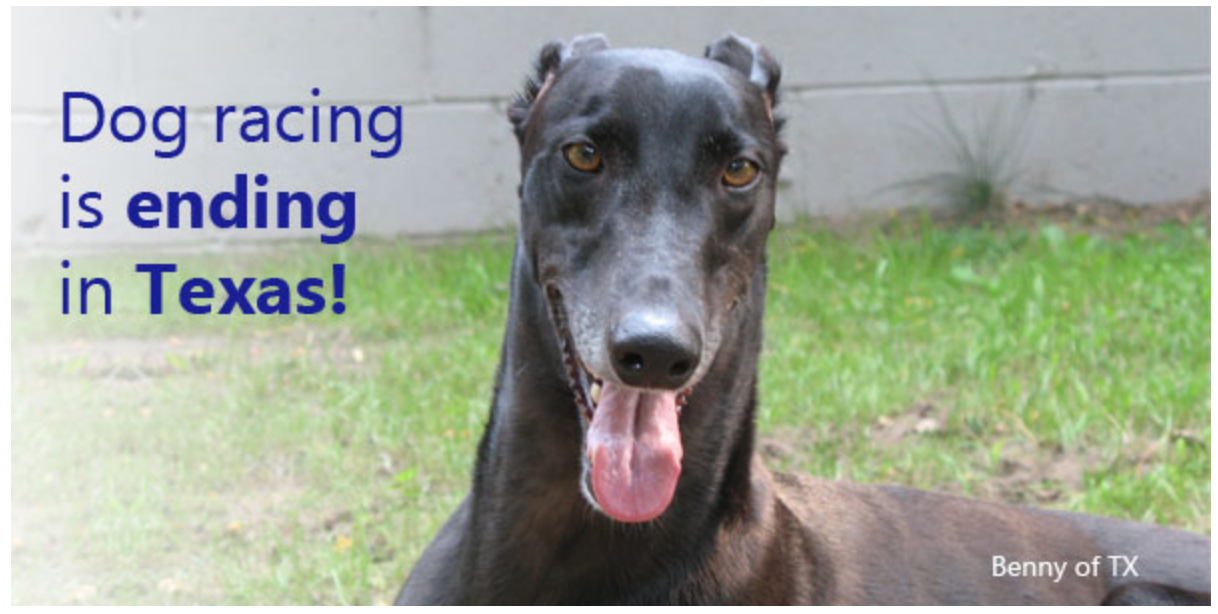 From an email sent by From GREY2k USA:
Dear Friends,
Yesterday, GREY2K USA learned that the last greyhound track in Texas was calling it quits! That's right, Gulf Greyhound Park, the third and final dog track in the Lone Star State will close its doors to live racing by January 1.
Read the Galveston Daily News and Austin American-Statesman stories now.
Gulf Greyhound Park is one of the worst dog tracks in the country, and this is truly a victory for everyone who cares about dogs. Hundreds of greyhounds will now be released from their cages and given the second chance they deserve. If you are interested in adopting, please contact our friends at Greyhound Rescue Austin or the Texas Adopt a Greyhound Society.
More than two thousand greyhound injuries have been reported at Gulf since 2008 alone, including broken legs, puncture wounds, a broken neck and a crushed skull. During the same period, 115 dogs died or were destroyed due to the severity of their injuries. Meanwhile, the amount of money gambled on live racing fell by 61% over the last decade. As a result, there were fewer and fewer funds muzzled greyhoundavailable to care for the greyhounds, and at least one kennel worker was sanctioned for failing to seek veterinary care for an injured dog. Another trainer was also caught on tape using live rabbits to bait his dogs.
Read more about dog racing in Texas and nationwide in our national High Stakes report.
Once Texas racing ends later this year, greyhound racing will be legal and operation in just six states. Thanks to everyone who worked with us last summer to keep slot machines out of Gulf Greyhound Park. The track spokesperson has conceded that this was the last hope she had for keeping the aging facility afloat and acknowledges that "the economics of live greyhound racing have significantly deteriorated."
Enough greyhounds have suffered and died while racing in Texas, but soon this cruelty will come to an end. Please continue to support our work until the dogs in Alabama, Arizona, Arkansas, Florida, Iowa, West Virginia and worldwide get the same chance.
Together we can do it!
https://gwtgl.com/wp-content/uploads/2015/08/Screenshot-2015-08-31-07.35.43.png
614
1218
gwtgl
http://gwtgl.com/wp-content/uploads/2015/03/GamblingLogo2C.jpg
gwtgl
2015-08-31 12:36:56
2015-09-26 20:17:34
From GREY2K USA